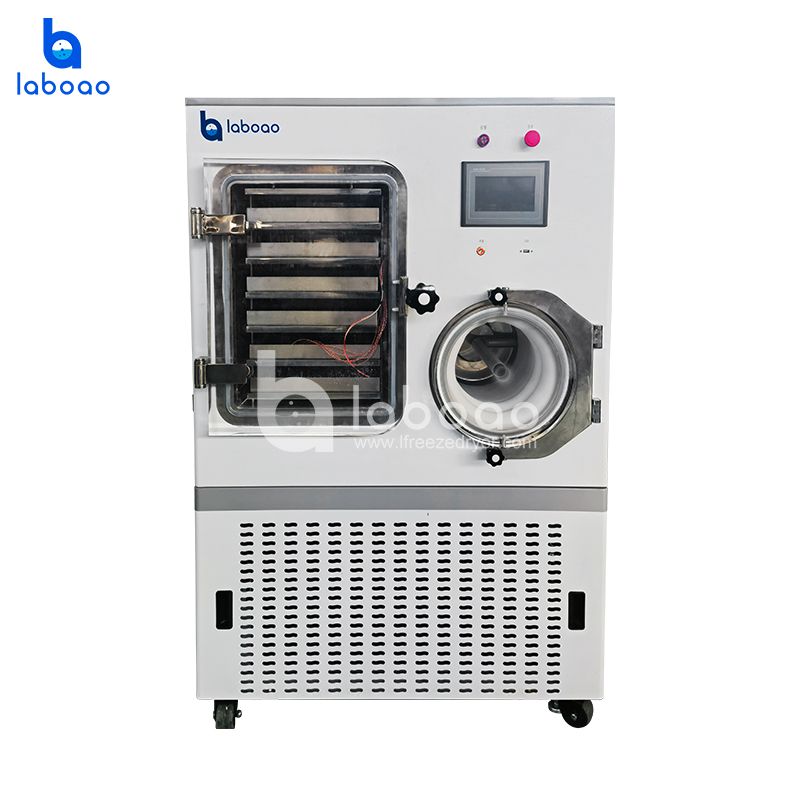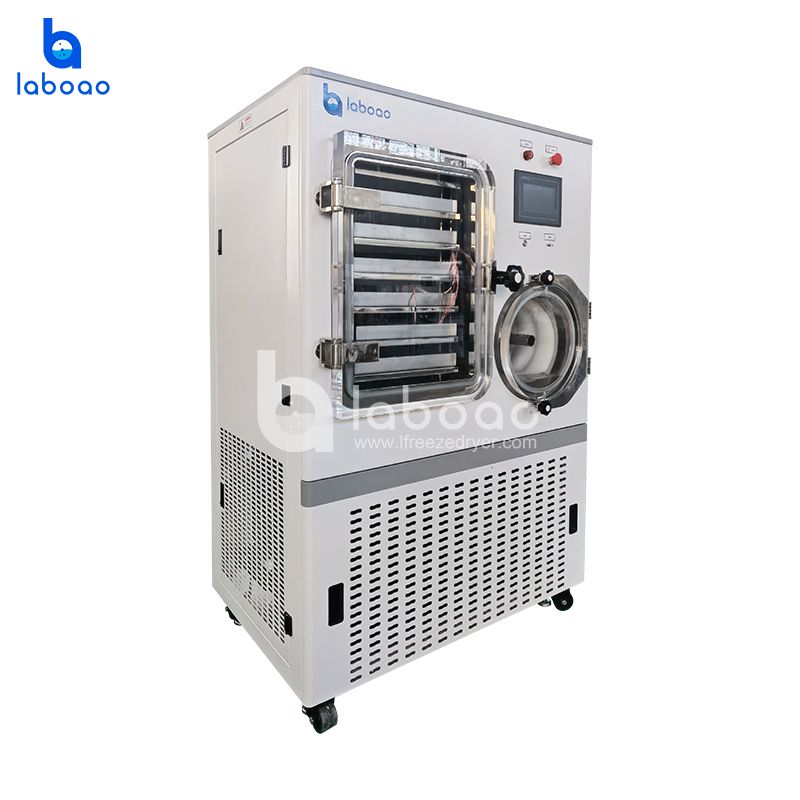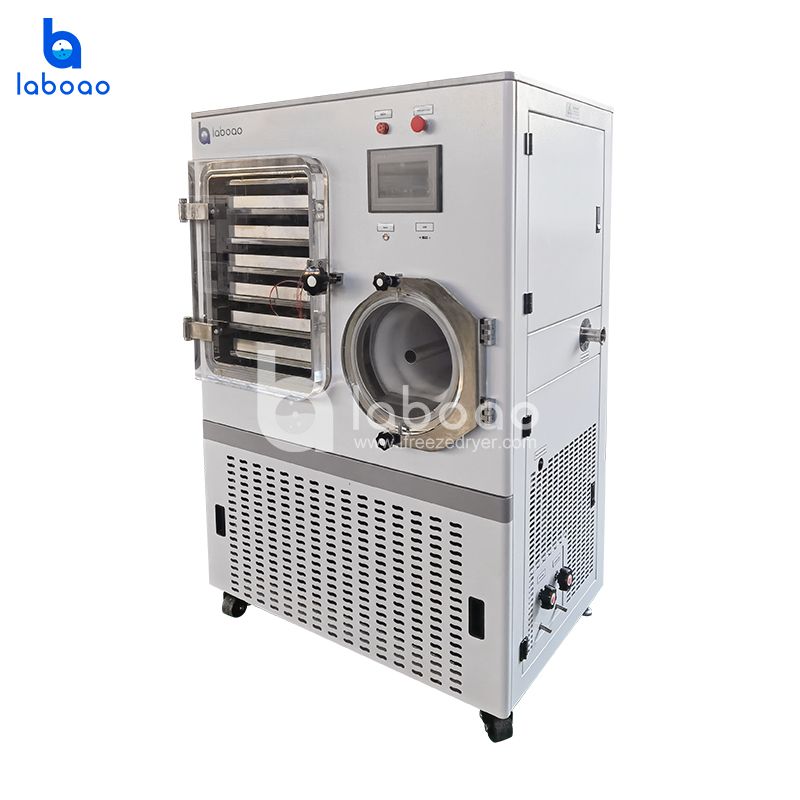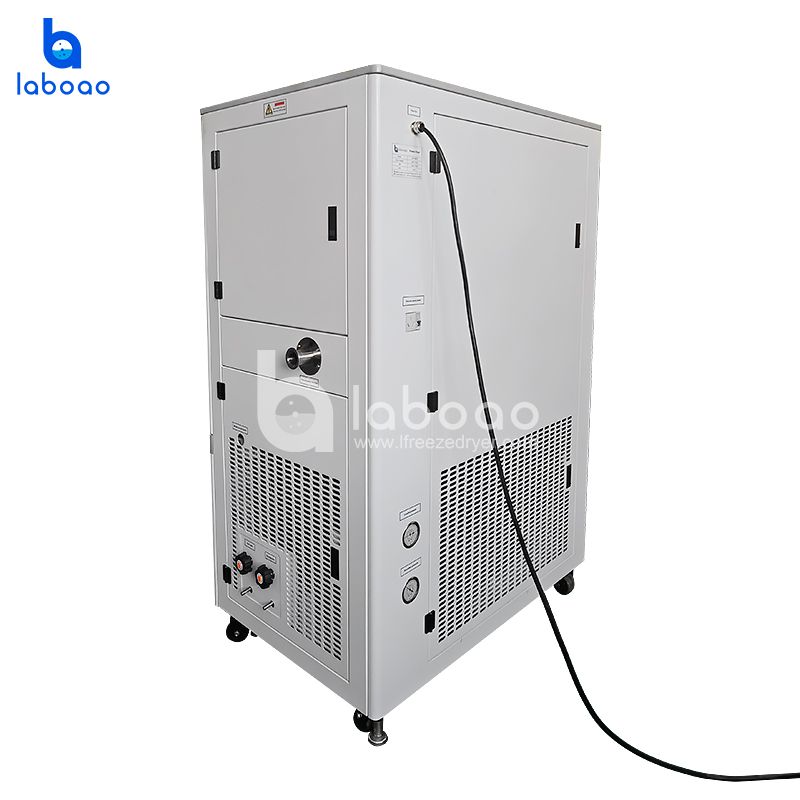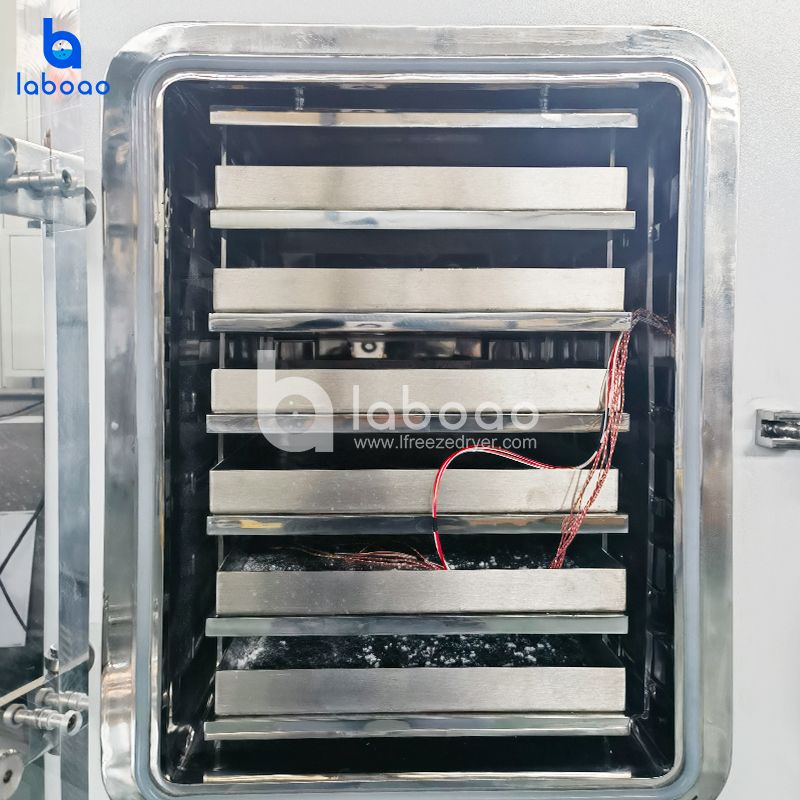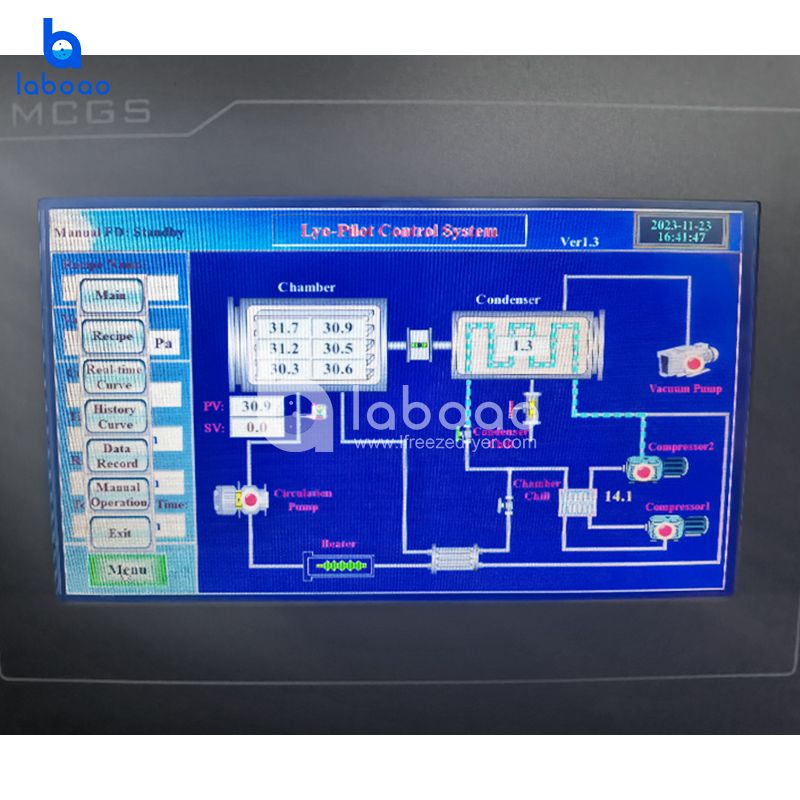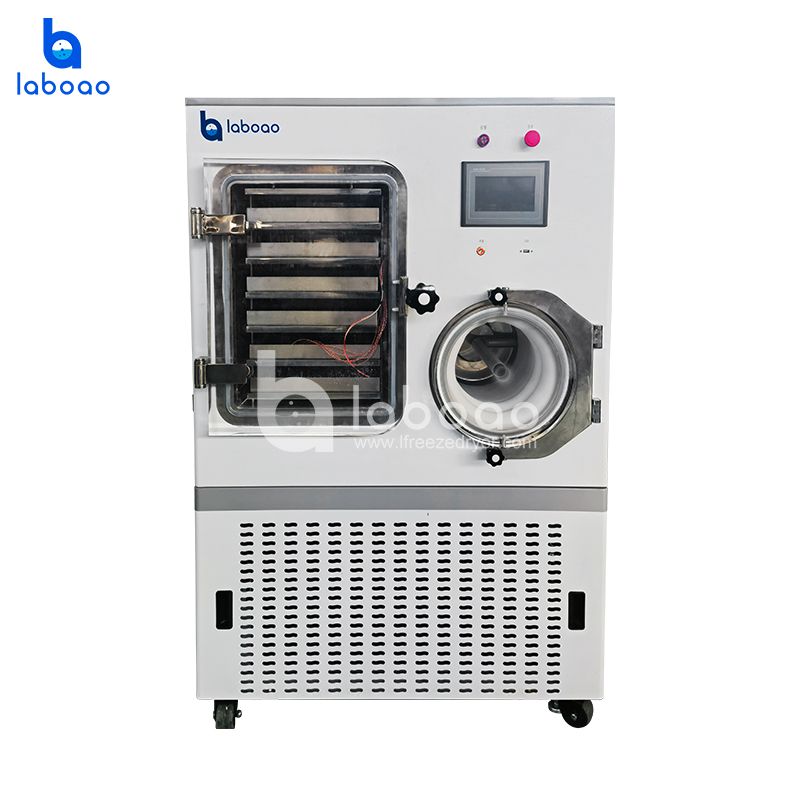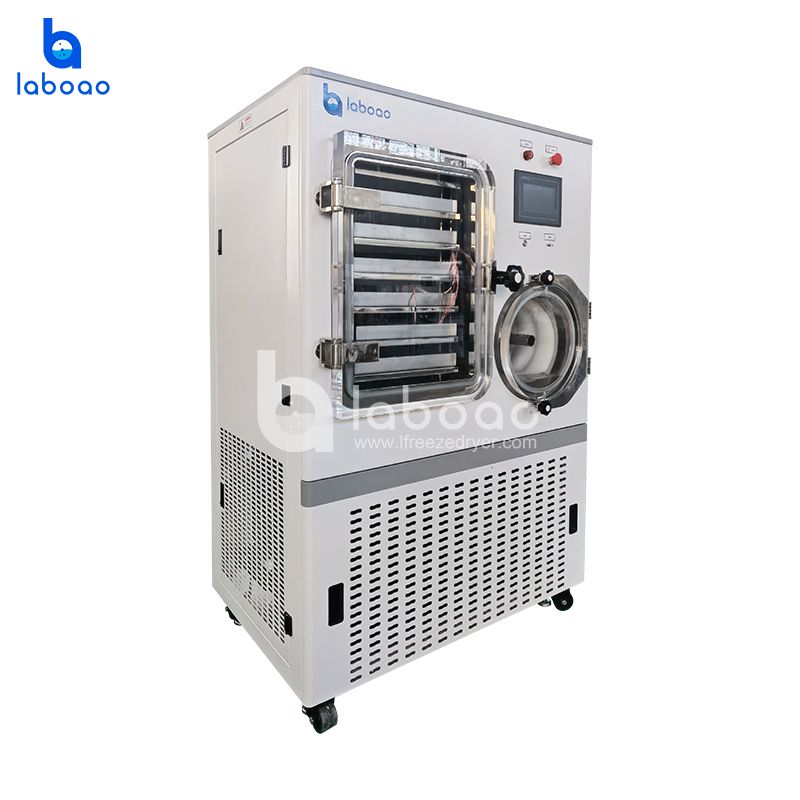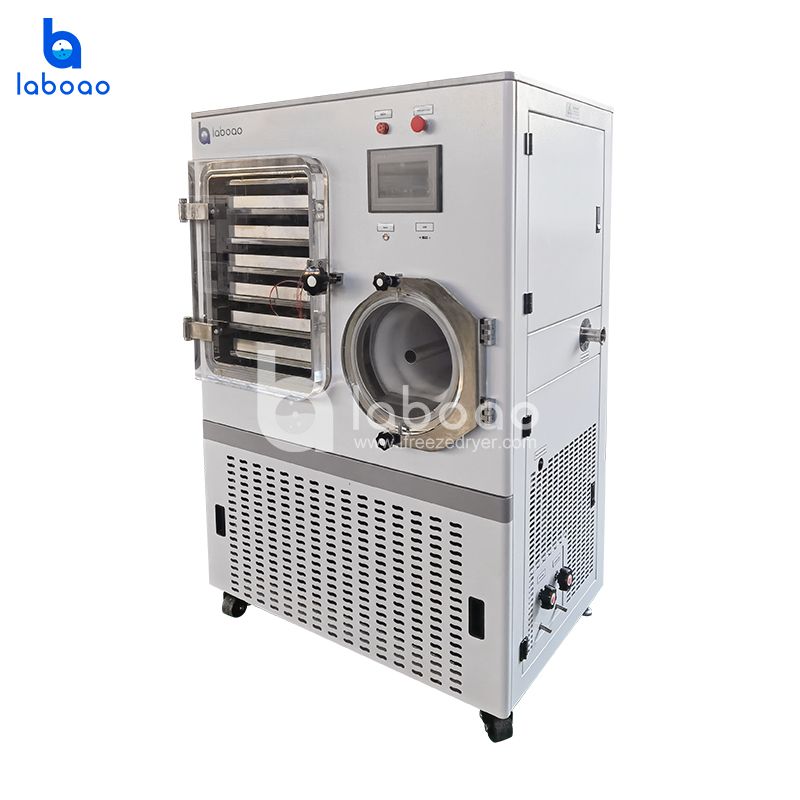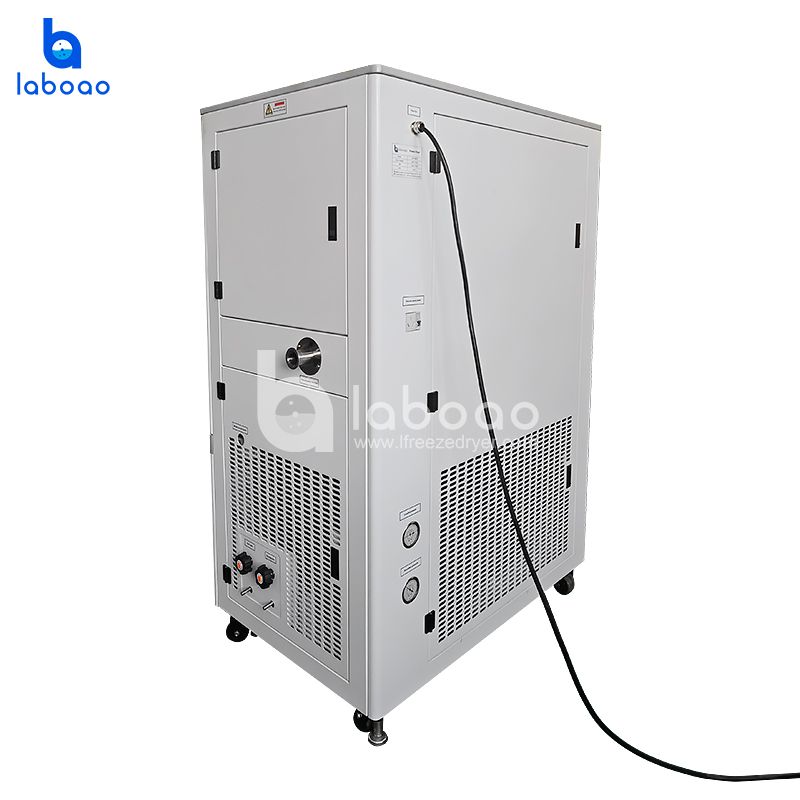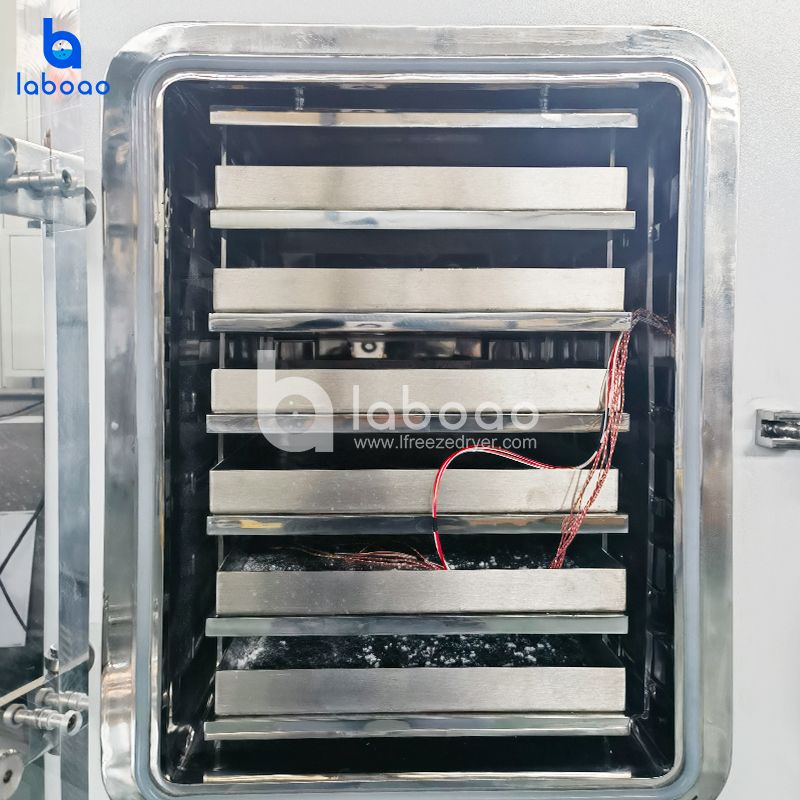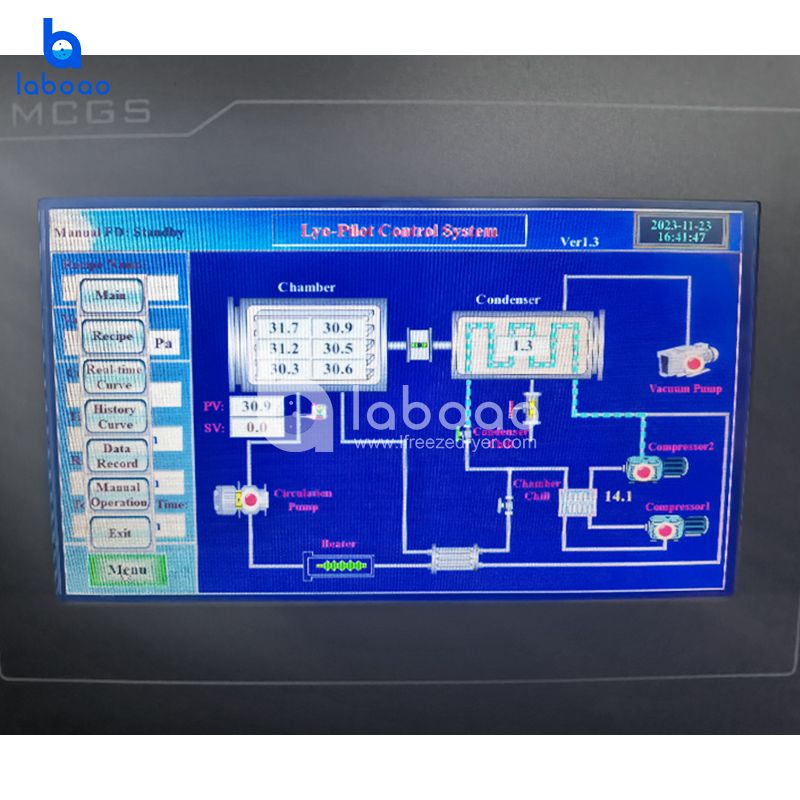 1㎡ Silicone Oil Heating Lyophilizer
LFD-100FA
It is suitable for freeze drying of conventional materials in bulk (liquid, paste, solid).
Freeze dried area

1㎡

Material tray size

475×355mm (6 pcs)

Water catching capacity

≥15kg/24h

Plate material

10L (material thickness 10mm)
Request Quotation
Chat Now
WhatsApp Chat

WeChat Chat
Download
VIDEO
https://www.youtube.com/embed/PPvmFxT_XzkDESCRIPTION
Vacuum freeze dryers are widely used in the fields of medicine, pharmaceuticals, biological research, chemicals and food. The lyophilized articles are easy to store for a long time, and can be restored to the state before lyophilization and maintain the original biochemical characteristics after adding water.
LFD-100FA (silicone oil heating) freeze dryer, lyophilized in situ (patented product). It changes the cumbersome operation of the past drying process, prevents material contamination, and automates the drying and sublimation. This model has shelf heating and programmable functions to remember the freeze-drying curve, allowing users to observe the lyophilization process of the material.
FEATURES
1. The company's patented product square warehouse in-situ vacuum freeze dryer, pre-freezing, drying in-situ, easy to operate, good drying effect.
2. The drying chamber door is made of ACRYLIC material, which is colorless, transparent and can be observed through lyophilization.
3. Inflatable (discharge) valve adopts safety diaphragm valve, which can be connected with inert gas source, and is filled with inert gas after drying to extend the shelf life of the material.
4. Specialized gas guiding technology, cold trap for uniform ice trapping and strong ice trapping ability.
5. Internationally renowned brand compressors, dual-machine cascade refrigeration, high efficiency, energy saving, long service life and low noise.
6. Patent technology of separator and fuzzy control technology of separator temperature, the shelf temperature difference is small, the temperature control precision is high, and the drying effect is uniform.
7. Freeze-drying curve optimization control technology, which can control the cooling rate in the pre-freezing stage, and control the heating rate of the sample and the vacuum value of the current stage in the sublimation and analytical drying stages.
8. Powerful sensor calibration to ensure accurate measurement of long-term use.
9. 7-inch true color industrial embedded touch screen + SH-HPSC-II modular controller, high control accuracy, stable and reliable performance.
10. Professionally designed FD-PILOT control system can save hundreds of process recipes, each set contains 50 temperature control sections to improve process optimization rate.
11. Intelligent data recording system, real-time recording and display of cold trap temperature curve, sample temperature curve, vacuum degree curve, export data can be browsed and printed by computer and various operations to facilitate process optimization and drying effect verification.
12. Flexible manual + automatic control mode, manually used for groping process, automatically used for batch production.
13. Real-time alarm display and historical alarm query function, convenient for fault diagnosis and equipment maintenance.
14. User level and password can be set and decentralized for operation management.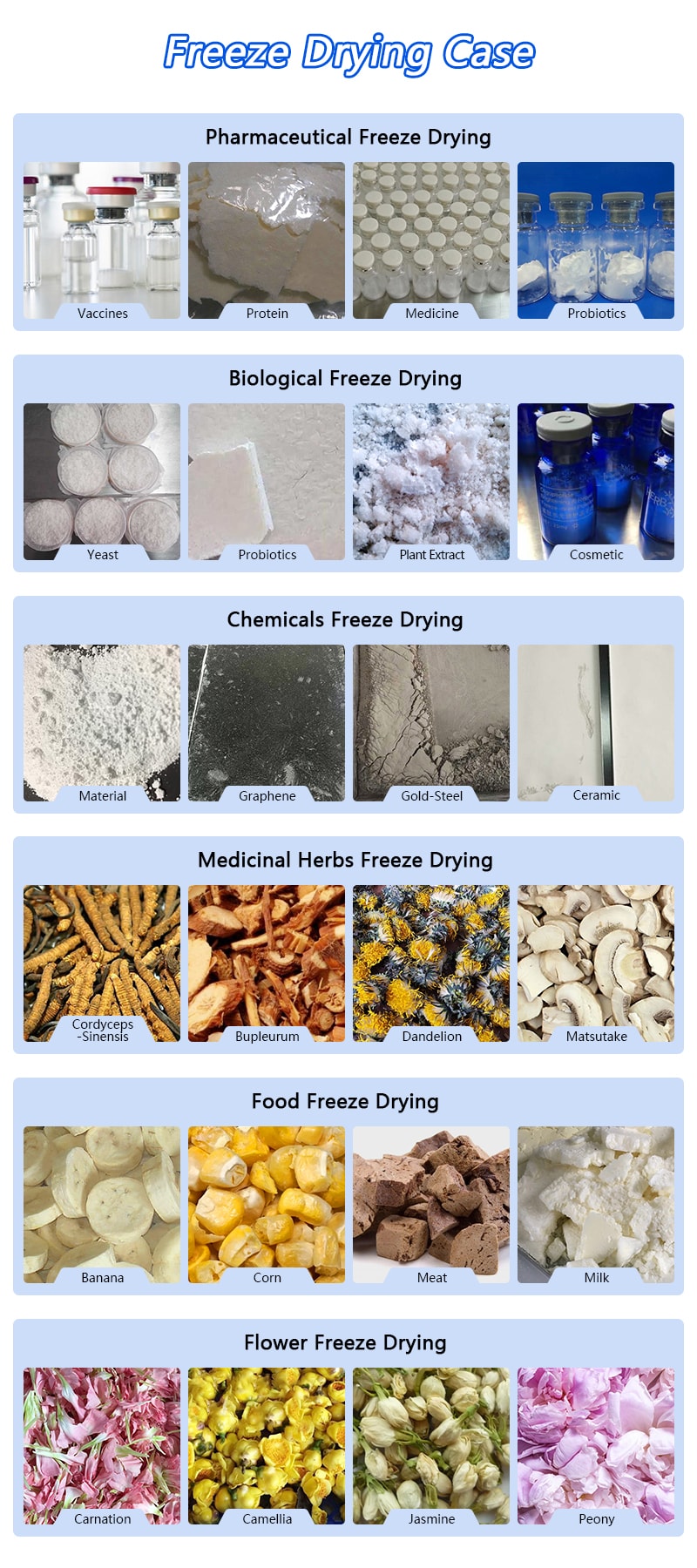 SPECIFICATIONS
| | |
| --- | --- |
| Model | LFD-100FA |
| Freeze-drying area | 1.04m2 |
| Material plate size | 475 × 355mm |
| Number of material trays | 6 |
| Shelf size | 480 × 360mm |
| Number of shelves | 6+1 floor |
| Shelf spacing | 70mm |
| Shelf temperature range | -55 ° C ~ +70 ° C |
| Shelf temperature difference | ±1 °C (balanced) |
| Cold trap temperature | ≤ -75 ° C (no load) |
| Water catching capacity | ≥15KG/24h |
| Pumping rate | 15L/S |
| Ultimate vacuum | ≤5pa (no load) |
| Installed power | 6500w |
| Host weight | 700kg |
| Mainframe dimensions | 1170×830×1665mm |
| Cooling method | air cooling |
| Plate loading material | 10L (material thickness 10mm) |
OPTIONAL
· Eutectic point tester
· Freeze-drying endpoint judgment function
· Imported brand vacuum pump
· Vacuum pump anti-return device
· Oil mist filtration system
· Vacuum regulation system
· LYO-MEGA Software System
· Mobile APP monitoring system
· Data Logger
· Backfill filter
· Automatic backfill and drainage control system
· Capacitive vacuum gauge
· External hanging device
· Non-standard customization
CONFIGURATION LIST
· Freeze dryer host ×1
· Vacuum pump × 1
· Sample tray × 6
· Hex wrench × 1
· Silicone oil × 1
· Circuit diagram × 1
· Instruction manual ×1
· Product warranty card × 1
· Product certificate × 1
· Other accessories
CUSTOMER CASE